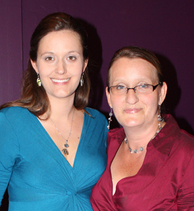 About the Artisans

Kaleid Escapes is a mother-daughter team of stained glass artisans, Pamela Johnson and Vanessa Vaverchak. Vanessa apprenticed under her mother, Pam, as a young teenager and has grown into an accomplished artist since. The designs continue to evolve as they learn and experiment together. Though the kaleidoscopes remain their primary interest, they have branched out into flatwork, mosaics and garden stones.

The kaleidoscopes maintain a relatively clean design, allowing for the beauty of the stained glass to be fully appreciated. Careful finishing touches are added including handmade glass bead feet, decorative solder, small jewels, and patina finishes. The bodies are cut from carefully chosen pieces of stained glass and house optical quality mirror systems. Disk kaleidoscopes are painstakingly designed for color, opacity, shape and they way the materials fall when the disk is turned. They seek out special gems, stones, shells, beads and upcycle jewelry pieces hunted out at garage sales, flea markets and antique shops.

Education & Background

Pamela was always artistic and has been making art since high school. She spent years working in her father's machine shop, giving her a background in metal-working and operating a small business. She combined her strengths into stained glass work, being the one who solders and builds most of the pieces. She also takes the lead on brass and marble kaleidoscopes.

Vanessa has an Associate's degree in Fine Art from Keystone College and a Bachelor's degree in Art from Binghamton University. She has spent time in the corporate world as a Graphic Designer and currently dedicates her time independently to graphic design, painting and stained glass. Vanessa takes the lead on pattern work, layout, disks, taping and print materials.

"For us, kaleidoscopes are a metaphor for life. They are beautifully ever-changing, unique to the materials that they are made from, and flow from one experience into the next. There is no beginning or end. A piece of us is reflected in every kaleidoscope we make and we hope that you enjoy them as much as we do."

---
---